I spent the summer of 2020 in Mallorca. While there, I made it my goal to visit the best beaches on the island (no small feat, I tell ya!).
With over 50 km of diverse scenery, you'll find everything from white-sand beaches backed by pinewoods (I'm talking to you, Es Trenc) to beaches set between rocky cliffs (eh hem, Sa Calobra).
Unlike neighboring Ibiza, the Mallorcan style is more chill-out and sunbathe than party with a gin and tonic. It's also super safe. You can leave your valuables on the beach, go for a swim, come back and they'll (probably) still be there.
(This was a pleasant change for me coming from Barcelona, where you can't look away for a millisecond without your things getting stolen!)
So if you're looking for a good beach to sit back and relax, Mallorca is the place to go. Only problemo? It can be hard to find a totally secluded beach. So try and visit these beaches as early as you can to beat the crowds (and snap the best pics).
Also, take note: You'll need a car to get around (public transportation is pretty much nonexistent outside of Palma). As far as rental car companies go, I've had the best luck with Sixt. Many other rental car companies may advertise a cheap price, but then when you go to pick up your car, you'll find out that all these hidden charges have been tacked on and suddenly the price is double…or they'll end up charging you at the end for scratches that were already there. A good rule of thumb: If the price sounds too good to be true, it probably is.
Whichever rental company you go with, it's a good idea to take a video of the car before you rent it. Just in case they try to charge you afterwards for preexisting scratches or whatever else.
So which beaches in Mallorca are worth the drive? Well, it depends on your taste of course. If you like mountains and beach like me (and you wanna get some hiking in), you'll love the north of the island, home to the Tramuntana mountains. But the south of the island is beautiful as well.
In this post, I've rounded up the 10 best beaches in Mallorca and what villages or beaches to visit close by.
The best beaches in Mallorca
First things first: Many of the beaches in Mallorca are called "calas." A cala is basically a beach surrounded by mountains/steep cliffs.
Which brings me to…
1. Cala Deia (west coast)
Cala Deia is a rocky cove beach in the Tramuntana mountains, just outside the picturesque village of Deia.
Not too shabby, huh? Only thing: Parking here is a bit of a nightmare. We came later in the afternoon and managed to find a spot about 15-mins walking distance. But you might be better off parking in the village of Deia and walking.
What to see close by: Valldemossa, Port de Soller, Soller, Fornalutx, Banyalbufar
2. Es Trenc (south)
This is one of the few beaches on the island that's been spared from development, thanks to three decades of protest. It reminded me a lot of Formentera, the smallest Balearic island, close to Ibiza (and an absolute paradise).
There are also little chiringuitos (bars) on the beach selling basic food and drinks.
Oh and the sunsets aren't half bad either…
What to see close by: Cala Pi
3. Cala Banyalbufar (west)
Cala Banyalbufar is a narrow beach at the foot of a cliff, ideal for snorkeling and swimming. It's one of the few hidden gems left on the island (aka *not* completely overrun by tourists).
As you can prolly tell, there's no sand, so we lounged on stone and rock (yet another reason to put that snorkeling gear on and get in the water!).
What I loved about this cala was not so much the beach itself, but the path that leads to the beach. The surroundings are breathtaking, with ancient terraced vineyards and hillsides that overlook the ocean.
Fun fact: Way back when, the Moors developed the land into farmland. It was once famous for its Malvasia wine (hence the name, "Banyalbufar," which means "vineyard by the sea" in Arabic). Today, the terraces are primarily used to grow fruit and veggies.
You'll probably wanna park in the town of Banyalbufar and then walk down. But bring some walking shoes, 'cause it's a steep hike down to the beach. And don't forget your water shoes–the shore is filled with large stones and rocks instead of sand, so you'll need 'em!
What to see close by: Torre del Verger, Port d'Andratx, Valldemossa
4. Formentor (north)
Formentor is located at the northern tip of the island, close to the enchanting town of Pollenca. It reminded me of Brazil, with the white-sand beaches, turquoise blue waters and green mountain backdrop.
I also liked that there's a lot of shaded area (so for all you fair-skinned folks out there, you don't have to worry about lugging an umbrella!).
(Nope, no filter there. The water really *is* that transparent).
Yet another reason you should check out Playa Formentor? The drive there.
Oh and don't miss sunset at Cap de Formentor. It's a must-see.
What to see close by: Cap de Formentor, Pollenca, Port de Pollenca, Alcudia
5. Cala Murta (north)
Cala Murta is an 85-meter pepple beach, also on the Formentor peninsula. This beach didn't blow me away with its beauty, but what I *did* love about it was how there were donkeys and goats meandering around, socializing with fellow beach-goers. #NBD
It's also pretty secluded, since it's only accessible by boat or walking trail. If you aren't lucky enough to have a boat (join the club), you'll need to park your car on the main street and trek 20-30 minutes through pine forest.
What to see close by: Cala Figuera, Pollenca, Cap de Formentor
6. Cala Figuera (north)
Cala Figuera is basically across the street from the start of the Cala Murta trail. So it's easy to see both in one day.
I say "basically" cause then you have to hike down to the beach (bring some good walking shoes for this, cause the trail is quite steep).
Confession: My boyfriend and I camped out at this beach (shhh don't tell the policia. 'Cause it's illegal to camp in Spain unless you camp at one of the (insanely overpriced) campsites…and I mean…is that really camping?).
It felt very…salvaje (wild) with not a single soul in site ('cept for goats).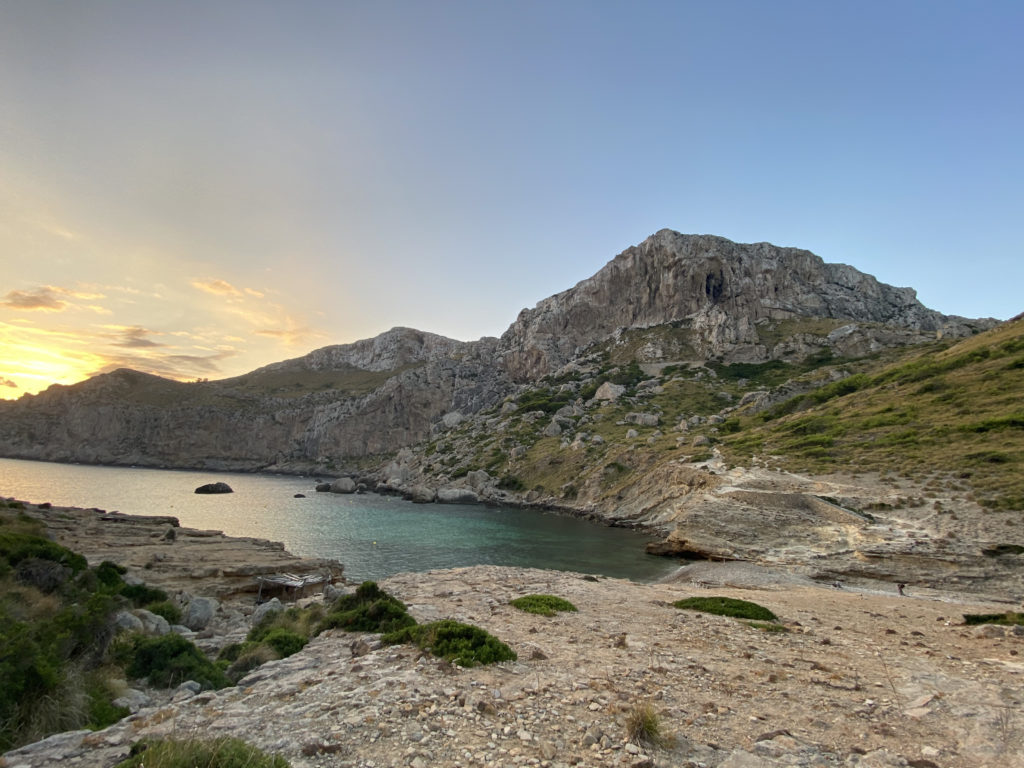 We plopped ourselves down and slept right on the beach (not totally ideal with all the rocks, but we made it work).
What to see close by: Cala Murta, Cap de Formentor, Pollenca
7. Cala Pi (south)
For all you out there looking for the perfect Instagram shot, Cala Pi is for you. The beach is sandwiched between two cliffs and surrounded by pine trees.
Just show me the damn Instagram spot. 
Okay, okay. It's this little cliff jutting out over the water:
(I couldn't resist getting one myself.)
Not bad, huh?
What to see close by: Colonia de Sant Jordi, Es Trenc
8. Cala des Moro (south)
This beach, located in the southeast of the island, was one of my favorites (perhaps the photos help explain why).
A private foundation cares for the beach, so don't be alarmed by the "private property" sign and fence at the entrance of the trail – just walk around it.
The only problem with Cala des Moro? It's packed with people. So this is one beach where you definitely wanna go early in the AM. My boyfriend and I went there twice and both times, went later in the day when it was already packed (I'm a slowpoke in the mornings, ok?!).
Good news is that there's a big parking lot, where you can park for free.
What to see close by: Cala S'Almunia
9. Cala S'Almunia (south)
This cala is right next to Cala des Moro (and in my opinion, just as beautiful). But I'll let you be the judge:
If you're feeling adventurous, there's also a good walking trail that'll take you to a secluded beach called Cala Marmols which is only accessible by boat or hike. I started the trail and then realized that it was like three hours of hiking, so turned around. But hey, next time.
What to see close by: Cala des Moro, Cala Marmols
10. Sa Calobra (west)
Sa Calobra is a remote beach on the west coast of Mallorca. And when I say remote…I mean reallyyyyy remote. You have to drive through a narrow, zig-zag road, nicknamed "The Snake. The road is only 13 kilometers long, but because of all the twists and turns, it takes about an hour to drive from start to finish.
Also…the road is so narrow that there's barely enough room for two cars. So drive at your own risk!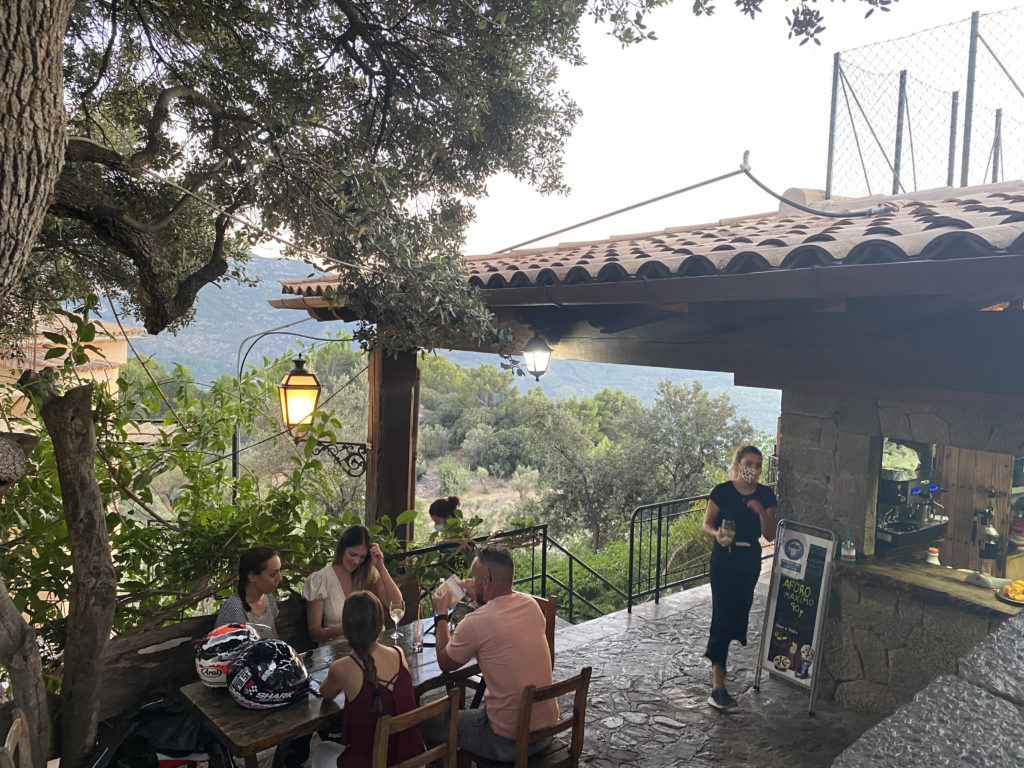 Once you get there, you'll need to pay for parking. It's quite expensive (I think we paid like 10-12 euros for a few hours). But it's worth it.
Once you get to that beach, you'll walk through a tunnel along the waterfront that brings you to this beach here (the main attraction):
As you can see, the beach is at the end of a gorge, smack in the middle of two rocky cliffs.
It's also a popular spot for cliff jumping.
What to see close by: Soller, Port de Soller, Cala Tuent
So there you have it! The 10 best beaches in Mallorca (that I saw anyway).
Got any to add to the list? Share 'em in the comments below!