Lemme guess…
You wanna be able to skip the commute, work in your PJs and travel whenever and wherever you want.
You want to build a career that can GROW with you. Something that has the potential to be highly lucrative. But that doesn't require any experience. Or a fancy schmancy (ahem – overrated) degree. So you can quickly get the experience you need to start working. ASAP.
Problem is…
Most remote jobs either require years of experience… or pay pennies (uhh no thanks). 
But not copywriting. With copywriting, you don't need to have ANY experience to get started. You don't need to invest years (or even months) in some intensive training program. You don't even need to have a college degree. All you need is a love of words and a desire to learn.
And the best part? Once you get good at it, you can charge BIG bucks (more on that in a bit).
I know I know… it all sounds too good to be true, right?
But it's true. I know 'cause I've been a digital nomad for 5 years and a freelance copywriter for a year and a half. I've used copywriting to fund my travels around the globe and live and work from some pretttttty cool places like Colombia, Argentina, Brazil, and my current home of more than 3 years, Spain.
Here's proof:
I learned everything I needed to know online. And I was able to land my first few clients without *any* portfolio or testimonials under my belt.
So what IS copywriting anyway? And how can you become a digital nomad copywriter?
Let's tackle the first question first. To put it simply…
Copywriting is the act of writing words that sell things
Y'know… like those mind-reading Facebook ads that pop up at juuuuuust the right moment. Or those emails you get from your favorite brand. Or the words on their website that convince you to open your wallet.
Not to be confused with copyright (which is a legal term referring to intellectual property).
Also not to be confused with content writing. Copywriting is similar, but the goal is different.
Ya see, content writing is about educating and entertaining (and building a relationship with the audience). Like this blog post you're reading right now. Whereas copywriting is focused on getting a direct response from the reader (like sales or an opt-in).
Because copywriting is more directly tied to sales (aka it makes your client money), it tends to pay *much* more than content writing.
It also requires more research, data and an intentional use of psychological techniques (like urgency, scarcity and all that fun stuff).
Intrigued? Here are a few examples of what you write as a copywriter:
Facebook ads
Landing pages (a standalone web page that has a single goal, like capturing email addresses) 
Sales pages (a web page with one goal: to sell a single product) 
Product descriptions for eCommerce sites
Emails
Website copy
You can niche down to focus on the type of industry and copy that you're passionate about. For example…
Emails for eCommerce brands
Sales pages for course-creators
Landing pages for SaaS brands
Website copy for Fintech companies
Or you can write all types of copy for just one industry. Or one type of copy for many industries. The options are limitless.
Freelance vs full-time employment
Before going full-time freelance, I worked remotely for an agency for 4 years (doing mostly content marketing but a bit of what I thought was copywriting at the time… although in retrospect, I didn't really know what I was doing lol).
Personally, I prefer working as a freelancer. I like having the freedom to…
Work the hours that I'm most productive (and not *have* to work 8 hours per day)
Take vacation whenever I feel like it
Charge the rates that I want to
Be in charge of my process
There's also something gratifying about building something that's all your own. You get to brand yourself and become known for that ONE thing.
At the same time, being a freelancer does have its downsides. Until you establish a name for yourself, your income might not be so consistent or stable. You have to control your time and learn to self-discipline yourself.
If you prefer having a consistent income, then you might be better off working part-time or full-time for a company to start off.
Or you could look for a contractor position and work a set number of hours per month for a single company. Best of both worlds (well, minus the employee benefits).
I'm gonna assume that like me, you don't want a cap on your income or a boss looking over your shoulder. You want to be your own boss.
Amiright?
If so, then you might be wondering…
"So how much can I make as a freelance copywriter?"
Short answer? It depends on your level of experience.
To give you an idea, some copywriters charge $30k+ for a single project. Many experienced copywriters charge around $2k+ for a single day.
I know…
But obviously, when you're just starting out, you can't charge those kinda rates. To be clear, copywriting isn't a get-rich-quick kind of thing. It's a skill that takes years to master.
When you're just starting out, you should take pretty much ANY job that comes your way. Don't be picky. See each job as a way to build your experience and testimonials.
This graph by Jimmy Daly illustrates what your response to jobs should look like over the course of your career: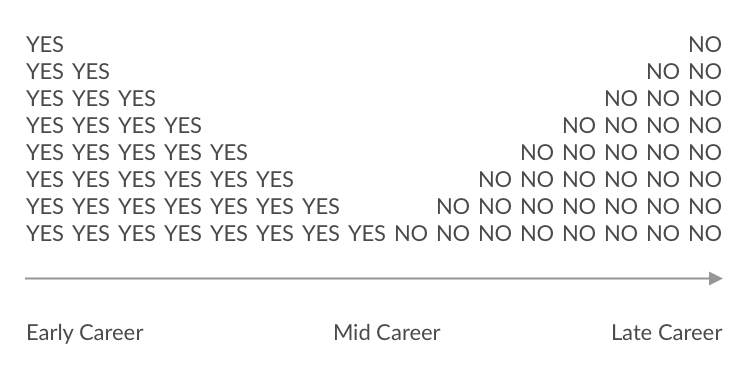 So what should you charge? To start, set your hourly rate to $25-$50/hour. Think about how long that project will take you. Then add 20% ('cause projects almost always take longer than expected).
So if a client hires you to write a landing page and you estimate it will take around 10 hours to write, then you could charge $300-$600 for the page, depending on your internal hourly rate.
Then gradually increase your rates as you accumulate knowledge and gain experience and testimonials. If you work hard at it (and continue learning as you go), within 12 months, you could absolutely be charging premium rates (like $100+/hour).
Good news is that if you're living in a place like Thailand or Argentina and charging US market rates, you won't need to work too hours to make ends meet. #PerksofNomadLife
Still confused about what to charge? This article goes into more detail.
What does a freelance copywriter DO each day?
Your time will be divided mostly between marketing, admin work and copywriting (client work).
My copywriting hero and mentor, Joanna Wiebe, recommends spending no more than 20 hours per week on client work. You gotta devote time to growing your business, otherwise, you'll end up in feast or famine mode (no bueno).
When you get started, you'll want to define your process (oh and share your process on sales calls with clients you want to work with and they'll be impressed).
My process depends on the project but goes a little something like this:
1. Research and discovery
Some copywriters spend 40 hours on research ALONE. Normally my clients don't have budgets that allow for that. So I spend about 10 hours or less on research.
The research phase includes things like:
interviewing the client and their customers
sending out surveys
digging through forums and groups where the ideal customer hangs out
checking out competitors
review mining (checking out a related product that an ideal customer might buy… and then looking through the reviews)
I'm looking for my One Readers' hesitations, motivations and desires in the buying process. Along with the words that they use and how they speak. That'll help me craft copy that really resonates with them — and sells.
Then I'll pull together the main insights, along with the sticky copy (the messaging that really stands out). And I'll use that to craft the copy.
2. Planning out the copy
Next I start planning out the copy. If I'm writing an email sequence, I'll plan out the email flow (the content of the emails and when to send them). If I'm writing a sales page, I'll plan out the messaging hierarchy of the page or how to structure the messaging on the page for maximum impact.
You can rely on copywriting formulas to get the job done but ultimately, the messaging will depend on your One Reader (the person you're speaking to) and where they are in the buyer's journey.
For example, if the readers landing on the page are already familiar with the brand (these are called warm or hot leads), then you'll want to speak to them differently than if they have never heard of the brand (or solution) before.
3. Writing the copy 
Using data and research insights, I start crafting the copy.
4. Editing
"Understand that the first draft is often terrible."
-Legendary copywriter, Joseph Sugarman
And that's why editing is so important. I like to write the first draft… sleep on it… come back to it the next day and edit. And do that over and over again until I'm feeling reallllllyyy good about the copy. THEN I hand it over to the client.
5. Revisions 
I offer the client two rounds of revisions. If you want to reduce the risk even more for your client, you could offer unlimited revisions. Just be sure to ask the client to get the revisions back to you within a set time frame (like 5 days) — and outline this in the contract.
And there ya have it! That's my copywriting process in a nutshell.
When I'm not working on client work, I spend the rest of my time pitching dream clients (using mostly cold email, Facebook and Upwork), working on admin stuff (like refining my processes) and marketing my services.
As a freelance copywriter, you'll want to define not only your copywriting process, but your process with client communication and projects. And get answers to questions like:
What questions do you ask prospects on a sales calls to determine if they are a good fit?
How are you setting expectations with your client (so that there are no surprises during the project)?
How often are you communicating with your client throughout the project?
But don't worry about having your process completely defined from the get-go! As you start completing projects, you'll get a feel for what's working and what needs improvement. And you can refine your process as you go.
How to become a digital nomad copywriter
So you're convinced you wanna become a digital nomad copywriter?
Woohoo, you're gonna love it! Here are the three basic steps to getting started:
Master the copywriting basics
Set a strategy for finding your ideal clients (and then send pitches that get those "YES I want to work with you" kinda responses)
Start nomad life! Pick your ideal destination and find a way to balance work-and-travel life
Wanna learn how to do all of that? Inside the Nomad Copywriter Starter Kit, you'll get e-v-e-r-y-t-h-i-n-g you need to become a digital nomad copywriter. Even if you have zero background in marketing. And no writing experience.
(For real. Many students landed their first client after going through the kit.) 
'Cause here's the thing: Copywriting be super overwhelming when you're just getting started. The Nomad Copywriter Starter Kit breaks down copywriting so it's easy for the newest of newbies to understand. And walks you through the strategies that have worked for ME and my business partner, Abi.
K that's the end of my sales pitch! Here's that link again if you're ready to become a digital nomad copywriter.